The Antarctic Oscillation (AAO) is the dominant pattern of non-seasonal tropospheric circulation variations south of 20S, and it is characterized by pressure anomalies of one sign centered in the Antarctic and anomalies of the opposite sign centered about 40-50S. The AAO is also referred to as the Southern Annular Mode (SAM). There is a Northern Hemisphere analog to the AAO, and it is called the Arctic Oscillation (or Northern Annular Mode). More information is available on annular modes through this link.

The AAO is defined as the leading principal component (PC) of 850 hPa geopotential height anomalies south of 20S (Thompson and Wallace 2000). (An AAO index calculated from SLP anomalies is available through this link.) I have calculated the PC (time series) of this pattern from the NCEP / NCAR reanalysis, and all calendar months are used. There are concerns about the usefulness of the reanalysis in the Antarctic (see articles in J. Climate). The AAO time series for 1968-98 can be compared with the index calculated by Thompson and Solomon (2002) from 500 hPa geopotential height from radiosondes.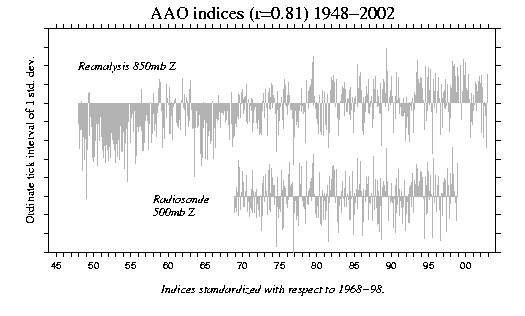 PostScript | JPEG | PNG


Plots of PC1 of 850 hPa Z and a 500 hPa index. Both series are standardized with respect to 1968-98, and are correlated at 0.81 . The trend in the reanalysis-based index (the 850 hPa time series) is primarily before 1970. Qualitatively, the 500 radiosonde-based index exhibits less of a trend than the reanalysis-based index.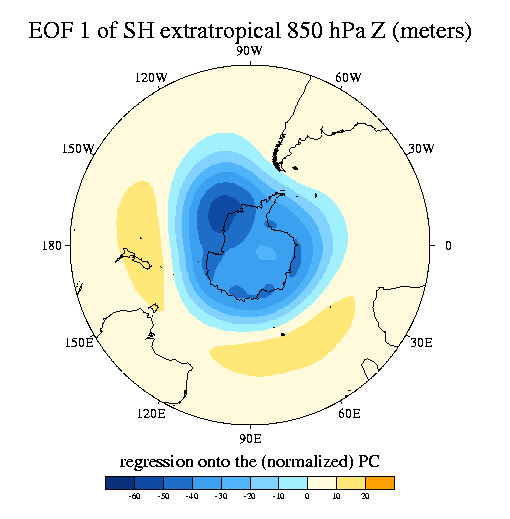 PostScript | JPEG


850 hPa geopotential height anomalies regressed onto the (normalized) AAO time series. Typical fluctuations in the AAO are associated with anomalies in excess of 30m over the pole and height anomalies of opposite sign and 5-10 m in magnitude at the latitude of New Zealand.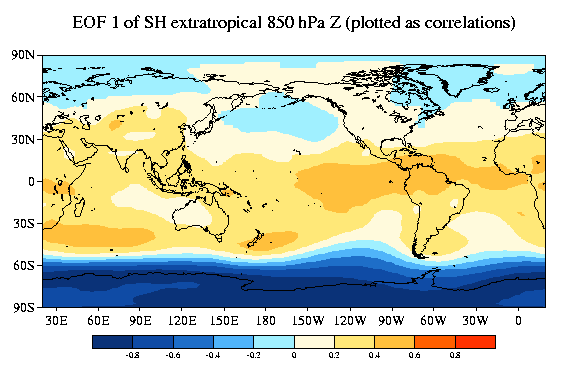 PostScript | JPEG | PNG


EOF1 plotted as a correlation map. Fluctuations in the AAO explain several percent of tropical variability.

The AAO is calculated with PC analysis, and this analysis yields a large set of modes, of which the first 3 explain 33, 11, and 9% of the variance, respectively. The spatial patterns and time series of each of these modes are shown in the next figure. The spatial maps are plotted as correlation maps, with the value at each grid point given as the correlation coefficient of the time series at that grid point with the PC for that mode.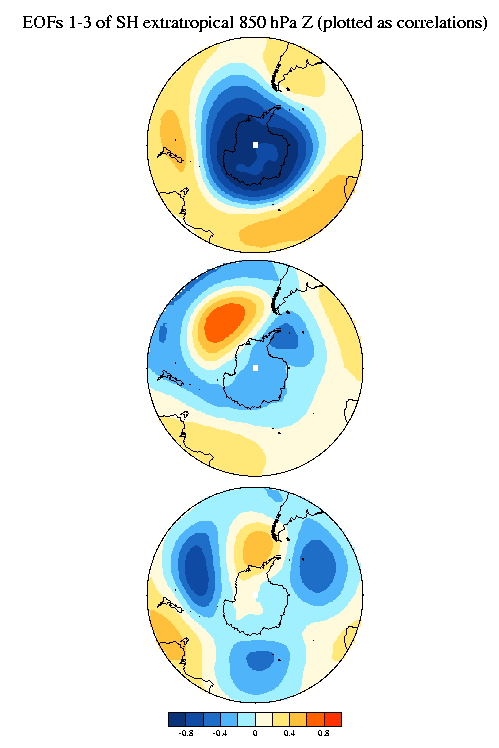 PostScript | JPEG | PNG


The second EOF is characterized by height anomalies of one sign centered at 50S,120W and weaker anomalies of opposite sign centered over the pole. The third EOF is characterized by zonal wave number 3 with centers of action over each of the oceans at 50S.