Recent SST anomalies: 1980-Feb99 (C)



Anomalies are with respect to 1985-94.

Recent (1980-Feb99) SST and 1985-94 climatology (C)



This analysis is in the spirit of a similar analysis in Wyrtki (1975, J. Phys. Oceanogr., 5, 572-584).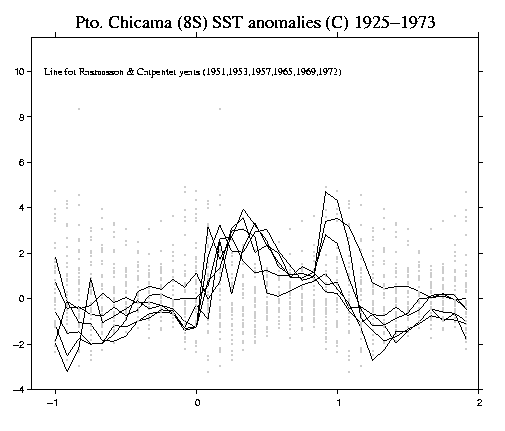 PostScript | Big Gif | PNG | JPEG


Time series plot of Pto. Chicama SST anomalies for 1925-73. The Rasmusson and Carpenter (RC) El Niño years (1951,1953,1957,1965,1969,1972) are drawn as lines. The RC years are characterized by a quick onset of positive anomalies in January-February-March, with anomaly magnitude diminishing during September-October-November, the local cold season, and oftentimes large anomalies in November-December and the following January.