JISAO
data
Eq. Pacific meridional wind anomaly index, 1850 - June 2005
An ENSO meridional wind anomaly index is calculated for the region 12-2N, 160E-80W from the International Comprehensive Ocean-Atmosphere Data Set (COADS). This region was chosen from a map of meridional wind regressed onto an index of eastern equatorial Pacific SST for the period 1950-79. The anomalies are with respect to a 1950-79 climatology.

Historical record: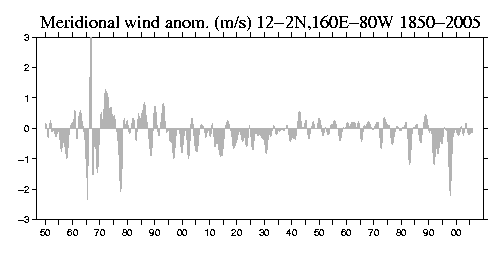 PNG | PS


The index has been smoothed for this figure with successive 11- and 7-point running means. The larger amplitudes in the 1800s are often due to small samples. This series exhibits year to year ENSO variability and also decadal variability.

Modern record: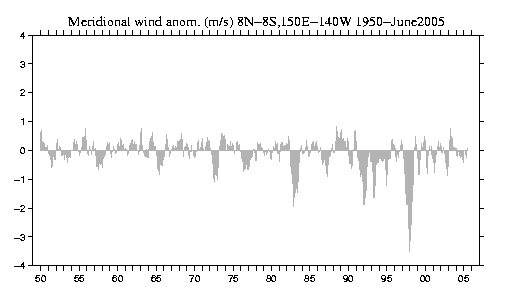 PNG | PS


The index has been smoothed with a 3-point running mean for this figure. The major ENSO episodes in this part of the record by this index, with the 1997-98 anomalies dominating the variability.

For this update, I have concatenated the NCEP near-real time marine record of 2003-June 2005 onto the ICOADS record. The NCEP data is not the NCEP - NCAR reanalysis, but are marine observations processed in the same manner as ICOADS. The NCEP record spans 1991-2005, and anomalies from it are correlated with ICOADS-based anomalies at 0.93.



PNG | PS
Data
The data is provided in several formats: