An ENSO zonal wind anomaly index is calculated for the region 8N-8S, 150E-140W from the International Comprehensive Ocean-Atmosphere Data Set (ICOADS) data. This region was chosen from a map of zonal wind regressed onto an index of eastern equatorial Pacific SST for the period 1950-79. The anomalies are with respect to a 1950-79 climatology.

Historical record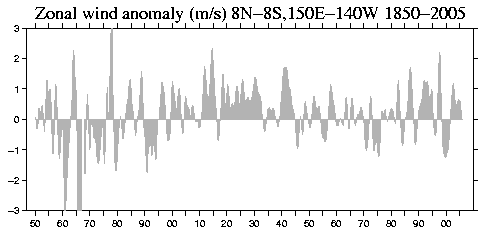 PNG | PS


The index has been smoothed for this figure with successive 11- and 7-point running means. The larger amplitudes in the 1850s and 1860s are probably due to the small number of grid boxes contributing to the average (the number of observations contributing are documented below). This series exhibits year to year ENSO variability, and a decadal tendency for easterly anomalies in 1850-90 and westerly anomalies during 1900-1950.

Modern record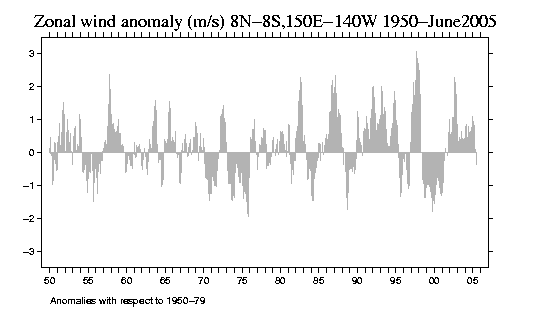 PNG | PS


The index has been smoothed with a 3-point running mean for this figure and captures the major ENSO episodes in this part of the record.

For this update, I have concatenated the NCEP near-real time marine record of 2003-June 2005 onto the ICOADS record. The NCEP data is not the NCEP - NCAR reanalysis, but are marine observations processed in the same manner as ICOADS. The NCEP record spans 1991-2005, and anomalies from it are correlated with ICOADS-based anomalies at 0.94.

PNG | PS
Reference
The index was developed for an unpublished paper on the chronology of ENSO in the tropics by myself and Mike Wallace.