JISAO
data
Gulf of Guinea standardized rainfall index (8-4N, 20W-10E)
1899 - June 2001
Analyses | Digital values

Monthly anomalies are standardized by calendar month with respect to 1899-1993, and the time series is filtered with successive 9-, and 5-month running means for this plot.

Modern record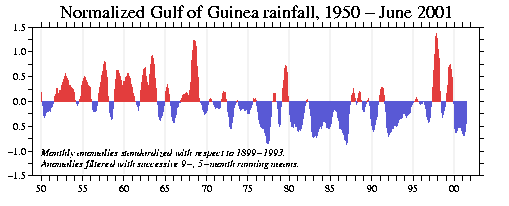 PostScript | JPEG


Monthly anomalies are standardized by calendar month with respect to 1899-1993, and the time series is filtered with successive 9-, and 5-month running means for this plot.

The averaging region is based on the rotated principal component analysis of average June through September African rainfall in Janowiak (1988). Stations within 8-4N, 20W-10E are obtained from the National Center for Atmospheric Research World Monthly Surface Station Climatology, and 5 retained which had complete or almost complete records for 1950-93. [I created this index in 1996. As of 2001 there are more than 30 stations in the WMSSC with long records that could be used in this index. For this update, I used only the original 5 stations.] The stations are:

             WMO*   name                  location    annual total (cm)
653380 BOHICON              (7.2N, 2.1E)  113
653440 COTONOU,       Benin (6.4N, 2.4E)  130
653760 ATAKPAME       Togo  (7.6N, 1.1E)  135
653870 LOME           Togo  (6.2N, 1.3E)   89
656600 ROBERTS FIELD        (6.2N,10.3W)  339
* World Meteorological Organization number


The monthly rainfall totals for these stations are provided here as a 7-column table. The columns are year, month, Bohicon, Cotonou, ... The rainfall is in 0.1 mm, I have set the trace and missing observations to 0.1 mm and NaN, respectively.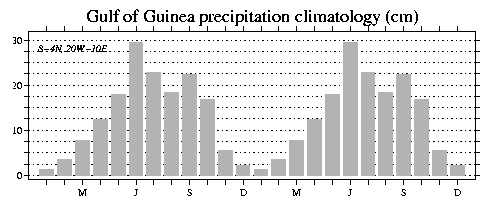 PostScript | JPEG

Maps of climatological Africa rainfall are also available.
The individual time series are standardized with respect to the calendar month mean and standard deviation for 1950-93. The index value for each year and month is taken as the mean of the available stations. The final index is standardized by calendar month with respect to the entire record, 1899-1993.
The following two analyses compare the precipitation in the Sahel and Gulf of Guinea. The plots were constructed with the NOAA Climate Prediction Center Precipitation Reconstruction data, which over land is rain gauge measurements.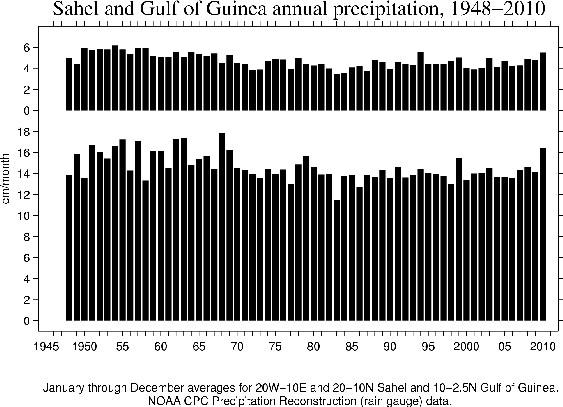 Big GIF | PS | JPG | PDF

The monthly time series of the data that went into these figures is linked here as a 4-column ascii file (year, calendar month, Sahel average, and Gulf of Guinea average in cm/month).

Additional information on African rainfall variability can be obtained from the papers by Sharon Nicholson.

Reference:
Janowiak, J. E., 1988: An investigation of interannual rainfall variability in Africa. J. Climate, 1, 240-255.
---
Digital values:
The rainfall index is provided in 3 formats: