JISAO
data
North Atlantic Oscillation (NAO) Index

Lisbon minus Stykkisholmur Normalized December-March Average SLP Anomalies. Values ascribed to the year of the January.

This index was provided by Jim Hurrell ( jhurrell@ra.cgd.ucar.EDU ), and is an update of the time series published in Hurrell (1995). Jim provided seasonal means based on these calendar months as the centers-of-action of the NAO tend to move about or are not as well defined during the other calendar months. Updated values of this index, as well as monthly- and annual-mean indices are available at this link (NCAR climate and global dynamics division).

The U.S. National Centers for Environmental Prediction (NCEP) provides monthly NAO values (based on a rotated principal component analysis) and forecasts of daily NAO values.

Sea-level pressure and wind anomalies for positive values of the NAO (Mann and Drinkwater 1994).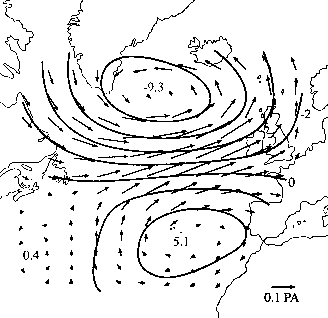 Reference and further information:

Hurrell, J. W., 1995: Decadal trends in the North Atlantic Oscillation: regional temperatures and precipitation. Science, 269, 676-679.

a "white paper" on north Atlantic climate variabilty by John Marshall and collaborators.

The Lamont-Doherty Earth Observatory NAO WWW page.
Data:
The following table and files contain normalized Lisbon minus Stykkisholmur normalized December-March average SLP anomalies. The index is standardized with respect to the years 1864-1983. [Jim Hurrell takes the difference of standardized time series, and I am providing the standardized difference of standardized time series.] Values are ascribed to the year of the January.
The data is offered in 3 formats:

A MATLAB ".mat" file ("load nao.mat" will load the data into the variable "nao."; there are values for 1860-2009; and "NaN"s for missing.).

 YEAR   +0   +1   +2   +3   +4   +5   +6   +7   +8   +9
 1860                      -56  -68   29  -75  153   93
 1870 -164  -55  -41  -27  127  -74   11    3   80 -121
 1880   49 -207  211  -13   79  -49  -61   25 -150   -1
 1890   97  -45 -110  -58  146 -217   61   59   56    2
 1900 -116  -18  -77  212   13  108  112  112   79    0
 1910  115   16   13  147   81  -11  -38 -207  -44  -44
 1920  173   89  101   94  -62  130    6   94   34  -56
 1930   50   -9  -27   14   47   53 -212   39   98   20
 1940 -156 -126  -30   81   33   89   15 -148   73  102
 1950   76  -69   45   10    7 -137  -94   83  -56  -20
 1960  -84   98 -130 -196 -156 -157  -92   70  -57 -267
 1970 -103  -52   19  137   67   89   75 -117    9 -123
 1980   31  112   44  187   87  -34   27  -41   39  277
 1990  216   56  179  146  165  216 -206  -11   39   93
 2000  153                                             



---
February 2002
Todd Mitchell (mitchell@atmos.washington.edu) JISAO data