JISAO
data
Tropical rainfall indices from rain gauge observations, 1850-1996

Analyses | digital values for the Pacific and non-Pacific
The indices presented on this page capture ENSO-related tropical rainfall variability. The data is that of Dai et al., (1997) and is available online both in ASCII and in netCDF formats. This pair of indices is the latest in an evolution of indices that I have created based on different rain gauge data sets, and it may not be the last. The preceding efforts for tropical Pacific and the tropics not including the Pacific are available.

The averaging regions employed are:
tropical Pacific: 6.25N-6.25S, 163.75E-86.25W
tropical non-Pacific: 20N-20S, 78.75W-163.75E
The time series values are calculated with respect to a 1950-79 climatology.
I also tried a tropical Pacific index for the region centered slightly south of the equator (6.25N-11.25S, 163.75E-86.25W), but this was not as well correlated with the eastern eq. Pacific SST as the 6.25N-6.25S index.
Eastern Pacific cold tongue SST, tropical Pacific rain, and tropical non-Pacific rain (inverted)

Historical record: 1850-1996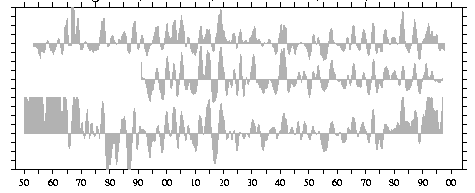 All series were filtered with successive 11- and 9-point running means for the first figure, and with successive 5- and 3-point running means for the second figure. All series were standardized by calendar month with respect to 1950-79. In addition, non-Pacific rainfall values in excess of 4 standard deviations are reduced to a magnitude of 4. All of the series capture the major ENSO warm and cold episodes between 1890 and 1996. The non-Pacific rainfall exhibits general dry anomalies since the 1980s. Aiguo Dai states that the "data after 1990 should be used with caution because station data have a very limited coverage for the latest several years." The non-Pacific rainfall values for 1850-70 seem suspcious.

References:


Dai, A., I. Y. Fung, and A. D. Del Genio, 1997: Surface observed global land precipitation variations during 1900-1988. J. Climate, 10, 2943-2962.

These indices are being written up in a paper by Mike Wallace and myself.
---
March 2002
Todd Mitchell ( mitchell@atmos.washington.edu ) JISAO data